26 recipes for 4th of July
26 Recipes for 4th July. Celebrate with the best tasty, patriotic party foods. From hot dogs, to red, white and blue desserts and beyond. There is everything here for the most fun day of the year to wow your guests and feed a crowd.
It's that time of the year and 4th of July is upon us. The biggest day of the year for cookouts, barbecues and fireworks. Celebrate the red, white and blue with 26 recipes for 4th of July. In this post, I have you covered with some noteworthy recipes from colorful cocktails, delicious hot dogs and you can't forget the patriotic themed desserts. Break out that checkered tablecloth and fire up the grill for a fun and festive fourth.
Red White & Blue Cheese Burger
Patriotic red, white and blue cupcakes are red velvet cupcakes topped with patriotic frosting to emulate a bursting firework.
Slow Cooker Beer Bratwurst with Peppers and Onions
Slow cooker beer bratwurst with onions and peppers are the perfect, easy cookout meal for a crowd. Brats are slow cooked in German beer along with onions and peppers, pile onto a bun and you're set.
Queso fundido skillet nachos are perfect for 4th of July celebrations for feeding a crowd. These nachos are loaded with everyone's favorites and more.
Red, White & Blue Bundt Cake with Fresh Berries
Red, White & Blue Bundt Cake with Fresh Berries an easy and festive recipe of yellow cake topped with a whipped vanilla buttercream and fresh strawberries & blueberries.
Chocolate Chip Cookie Ice Cream Sandwich Cookies
Perfect Chocolate Chip Cookie recipe is used for these ice cream sandwiches. The cookie part is soft and chewy, which I love with the ice cream.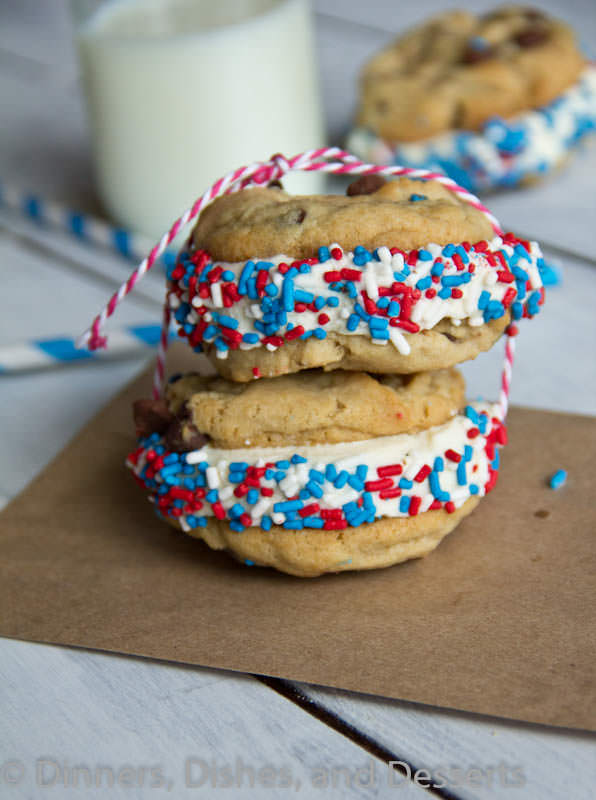 A fun and festive drink for the grownups. Fresh blueberries are muddled with sugar, topped with limeade and tequila. Garnish with fresh basil and blueberries and it's time to party.
Grilled Chicken and Vegetable Pasta
This grilled chicken and vegetable pasta is the perfect meal too cook outdoors, and make in a big batch for feeding your 4th of July crowd.
The perfect side dish for Summer! Macaroni is mixed with veggies in a creamy, sweet mayonnaise sauce. Great for potlucks!
Red, White, and Blue Velvet Cheesecake Cake
This Red, White, & Blue Velvet Cheesecake Cake is not just a huge show stopper, it is amazingly delicious! Two red velvet layers sandwich an amazing cheesecake layer, all covered in the most delicious vanilla buttercream frosting!
Patriotic Jello and Cream Push Pops
These Patriotic Jello and cream push pops are easy to make and so much fun to look at and eat! Get your kids involved in not only the eating, but the making of the layers of Jello, lemon cream and sprinkles. Fun for 4th July celebrations.
This fun Red, White & Blue Fudge is a great treat to bring to your holiday gatherings. Just a few simple ingredients & you can wow your crowd.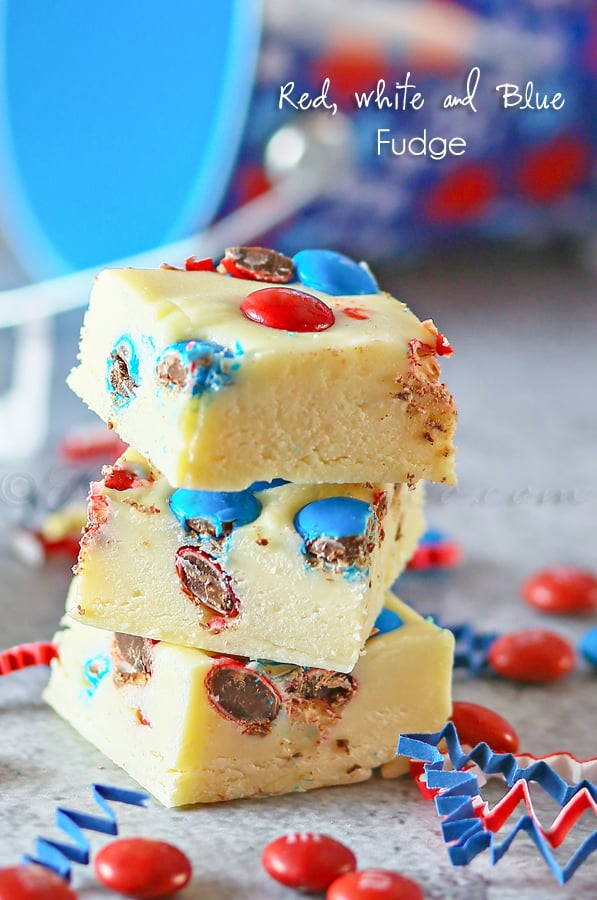 Fresh halibut pieces are coated in Mexican spices then sautéed. They are nestled in corn tortillas, topped with crunchy shredded cabbage, homemade pico de gallo and a cooling lime crema. Fresh, healthy and delicious.
Red, White & Blue Cheesecake Mousse
Cheesecake mousse layered with fresh fruit. This dessert is versatile, fun, and out-of-this-world-delicious!
White Chocolate Berry Parfaits
White Chocolate Berry Parfaits can be made with any seasonal berries but ruby red strawberries and sweet juicy blueberries are perfect for Independence Day.
No Bake Red, White & Blue Brownie Trifles
This no bake patriotic dessert makes it easy to feed a crowd.

Strawberry Filled Patriotic Cupcakes
Homemade recipe for Strawberry-filled Patriotic Red, White and Blue pound cake cupcakes. These are topped with delicious, sturdy whipped cream cheese icing.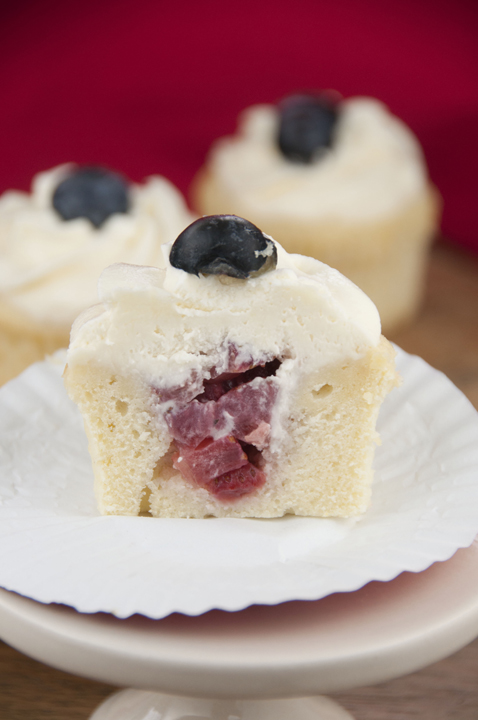 Red, White & Blue Dessert Crepes
Red, White and Blue Dessert Crepes – These could not be simpler, especially since they start with a cake mix! Each Funfetti crepe is filled with fresh fruit and topped with whipped cream; a fun way to celebrate with red, white and blue!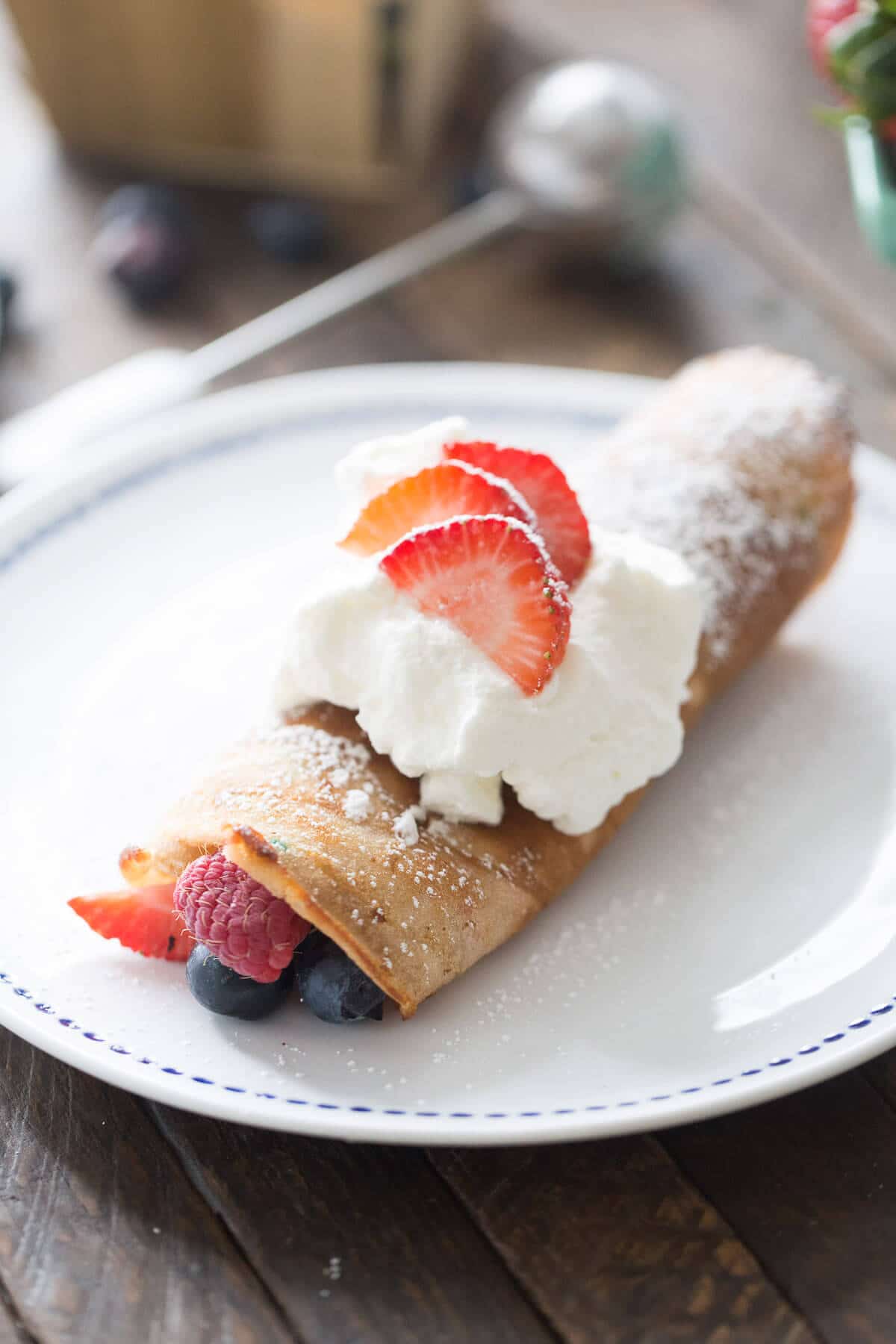 Grilled Parmesan Garlic and Basil Corn on the Cob
Grilled Parmesan garlic and basil corn on the cob is a delicious use of sweet, seasonal corn. Sweet corn on the cob is grilled then topped with fresh Parmesan, a butter made with roasted garlic and fresh basil for the best barbecue side dish.
Patriotic Jello Stars – layers of red, white and blue gelatin make up this colorful, and fun dessert to serve at all the Patriotic holidays!
Red, White & Blue No Bake Cheesecake
The best part about these mini cheesecakes is that they are no bake. With graham crackers, cherry, whipped cream and blueberries.
Juicy and very flavorful, this chipotle chicken burger mixes finely chopped onion, red pepper, cilantro and a little kick from chipotles in adobo right into the ground chicken meat.
Red, White & Blue Chocolate Covered Strawberries
So very easy to make. Strawberries are dipped in white chocolate and blue sprinkles. So patriotic.
With just 5 ingredients, these margaritas are perfect for 4th July. With delicious flavors of triple sec and the color from Blue Curacao.
One of the easiest teriyaki sauces that is made a little healthier by using agave instead of sugar. This recipe for teriyaki chicken skewers is healthy, but not lacking in flavor.
Turn one of your favorite popsicles into Bomb Pop Jello Shots! They're the perfect treat for 4th of July parties!